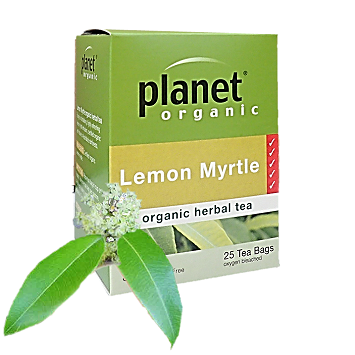 Lemon Myrtle Tea
This is the most popular of the Native Herbal Tea's with the tantalising flavour and aroma of Lemon Myrtle. Slightly tart but very refreshing and uplifting.  Helps with clarity of thought and also makes a great iced tea. Box of 25 cotton tea sachet's. Native to Australia's coastal rainforests. Grown pesticide and residue free.
Certified organic
Caffeine free
Gluten free
GM free
Delicious balanced herbal infusions.
Memorable Quotes: "This tea is wonderful, I have it nearly every night before bed and also when I have a lot of reading when I am talking all day at exhibitions, it helps keep my voice going" Lee Etherington, Proprietor of Kurrajong Native Foods.
Using your Lemon Myrtle Tea: Add fresh boiling water to the tea bag in a cup and allow to infuse for 3 to 5 minutes. Can also be allowed to cool before being sweetened to taste and served as a refreshing iced tea.
The Lemon Myrtle flavour will be enhanced if you add a fresh Lemon Myrtle leaf from your garden, plants are available from most good native nurseries.
Ingredients: Certified Organic Lemon Myrtle Leaves Backhousia citriodora (100%)
Store in a cool, dry & dark place. will last up to 18 months as per best before date on box.
---