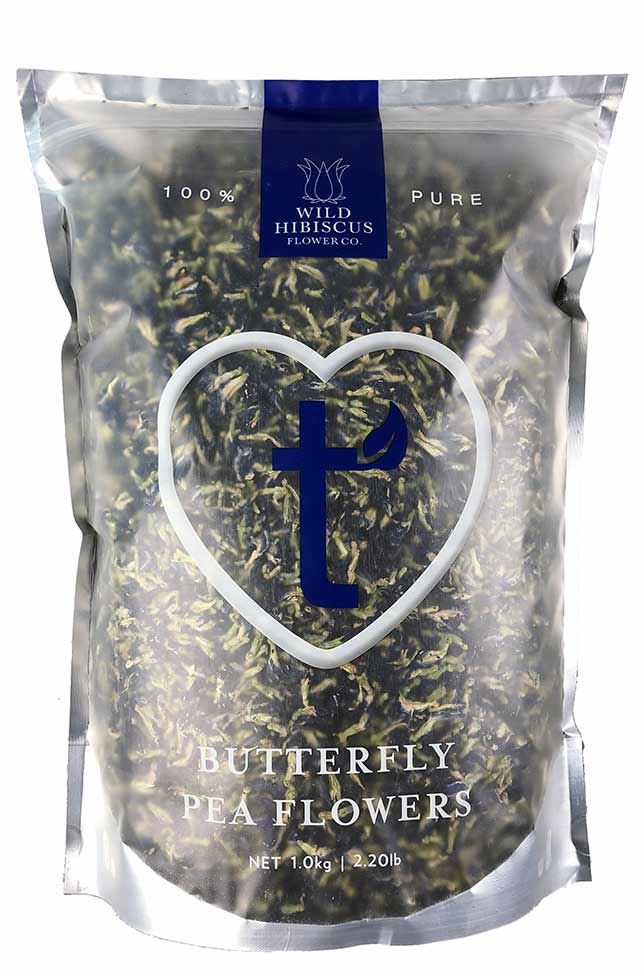 Butterfly Pea Flowers Dried (Bulk)
We have had a fantastcic harvest of butterfly pea flowers our farms in Thailand and are very happy to be able to pass on a $30 per kg price reduction to our bulk customers as of 1 Nov 2021.This offer may not last so please stock up while you can. Further discounts for 200kg plus.

Rest assured our quality is still the best possible and our moisture content is 3%. Other BP suppliers have as high as 12% moisture and this degrades the blue pigment within 6 months.

Wild Hibiscus Flower Company founder Lee Etherington was the first to develop this amazing blue colour changing flower for the international market way back in 2011. Lee's Thai company Siam Hibiscus Limited has an office in Bangkok and a factory in central Thailand where the flowers are grown, dried, graded and go through a special 3 stage drying process Lee developed which uniquely gives our flowers a 3 year shelf life vs the traditional Thai way which gives a shelf life of 6-10 months. Today Siam Hibiscus is the worlds largest supplier of Butterfly Pea flowers and in 2021 will export more than 220 million hand picked flowers from our beloved Thai farmers.

We supply bulk dried Butterfly Pea Flowers in whole or ground forms. We also make a superfine blue matcha tea powder milled here in Australia. This is completely different to the murky grey-blue spray dried rubbish made in China.

Perfect for larger scale production of syrups, teas, beverages and foods using blue flowers.
We supply hundreds of Distillers, Breweries and Wineries all around the world with hundreds of millions of butterfly pea flowers every year and we are distillers ourselves so if you want a perfectly consistent supply talk to us.

(Please note whole flowers are charged based on volume if needing express post)
---