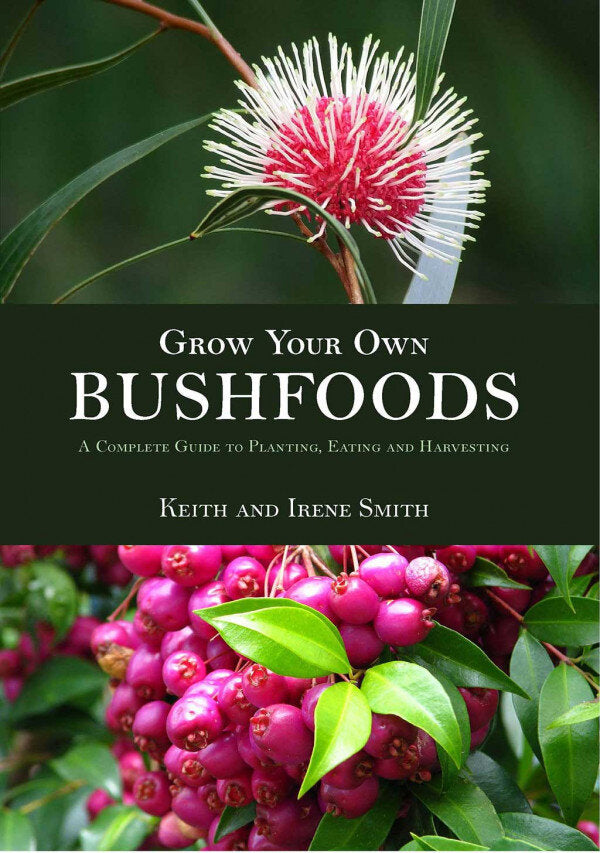 Grow Your Own Bush Foods
A great little book featuring growing tips and techniques, natural history and historical information on over 140 species of Australian native food plants. Perfect for any green thumb with an interest in native plants that have or would like to have a bushtucker garden. Also has some good natural history information, written by the founders of Earth Garden Magazine. This is the updated version released 2020.

Quick review: A practical guide to helping you grow your own bush tucker garden. Written by the founders of Earth Garden Magazine the minimal impact/permacultural philosophy is conveyed strongly in growing native plants for a healthier environment and lifestyle. The book is divided into sections based on the useful part of the bush food plants, namely Bushleaf flavours, Bushfruits, Bush vegetables, Seeds & Nuts, Nectar plants & Growing Bushfoods. Over 140 plant species are featured with notes on how to grow and use them. A great little book.

Good Points: Comprehensive coverage of bush food species, especially suited to the eastern seaboard. Some great cultural and historical information sprinkled throughout the text including locations where you can view significant bushfood plants or trees in public places.

Not so Good Points: Black and white throughout, could do with some photos of trees but still very effective in its message.

Overall: Recommended for anyone with an interest in native food plants or a bit of a green thumb. Especially recommended for those of us with a bushfoods garden or interest in native plants or schools wishing to establish a bush tucker garden.

From the back cover:

Grow Your Own Bushfoods is a comprehensive and practical guide to growing and harvesting more than 140 kinds of Australian bushfoods right in your own backyard.

Detailed plant profiles describe ideal growing conditions and characteristics of each species. In addition there are suggestions on the best ways to prepare and eat your bushfoods. use them as flavourings in jams, muffins or sauces, or make your own bush teas and sweet drinks. A bushfoods directory is also included which lists suppliers of catalogues, seeds and seedlings as well as native plant gardens open for inspection.

Written with an emphasis on using organic growing methods, Grow Your Own Bushfoods enables everyone to enjoy Australian bushfoods while at the same time preserving our endangered plant species.

Keith & Irene Smith have promoted organic gardening and the conservation of the bush since they started Earth Garden magazine in 1972. Their dream is to turn Australia into a giant bush garden before it is too late and this book contributes towards that goal.
---